Pinnings Plush Commission Guidelines & Application
Currently, plush commissions requests are CLOSED. They may open again in March 2023.
Commission Terms
Please read all terms before applying for a commission.
Will Accept:
Human OCs or fanart1

Anthro/Furry OCs or fanart1

Monster/Creature OCs or fanart1

Pets
Will NOT Accept:
Robots or mecha designs

Extremely complex designs2

Real living people3

NSFW
---
1. FANART - Meaning fanart from an animated series, game, book or other media. I will not produce plush from series where the IP holders have asked for individuals to not create merchandise for profit or plush based on original fanart designs (such as, a specific fanartist's rendition of a D&D version of Deku from MHA), without explicit permission from those parties.If you have an idea or inspiration board for a non-standard outfit for a character or would like an anthro version of a human character, I'm willing to work with you on this.2. COMPLEX DESIGNS - If you are willing to agree to a simplified version of a complex design, that's ok.3. LIVING PEOPLE - CHARACTERS from live actions shows are ok (such as, Blackbeard from OFMD).
Design Options
You can find examples of my work at the following link (and a couple of examples per size in the Pricing section below):
I'm currently building my portfolio and do not have pictures showing all examples, so I am open to working with you based on what sort of style you would like. I can produce the following styles:
Standing

Sitting

Simple poses

Nitotan or other "chibi" styles

Floppy "kuttari" / beanie baby

Tsum tsum style

Etc!
Pricing
These are guidelines, not final quotes. Pricing includes the cost of materials, prototyping, final product and labor. I may be flexible on price depending on the request.It does NOT include shipping or props/accessories. Customers are responsible for shipping cost and any customs fees that may apply.
Small Plush (~5") - $80 USD and up (Included styles: Nitotan, tsum tsum, etc). These will be very simplified designs!! (Examples below, though the Devilman plush are much more detailed.)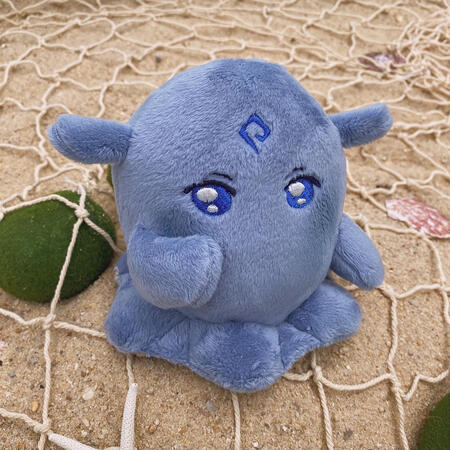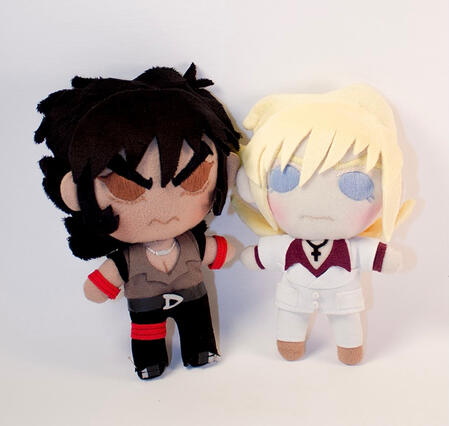 Floppy Animal Plush - $100 USD and up (Examples below, also cost may be lower for animals/fursona that are single color or have very simple markings.)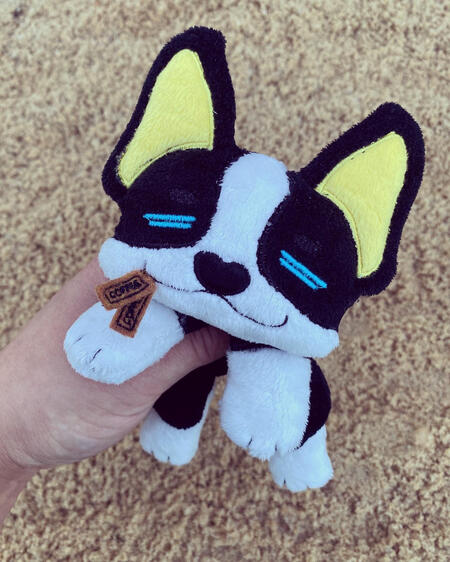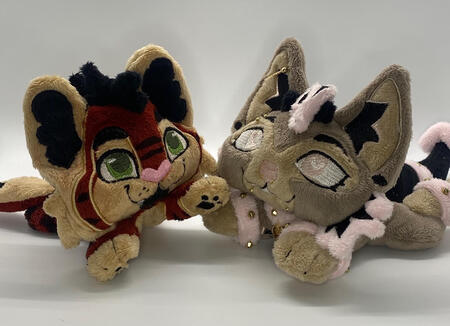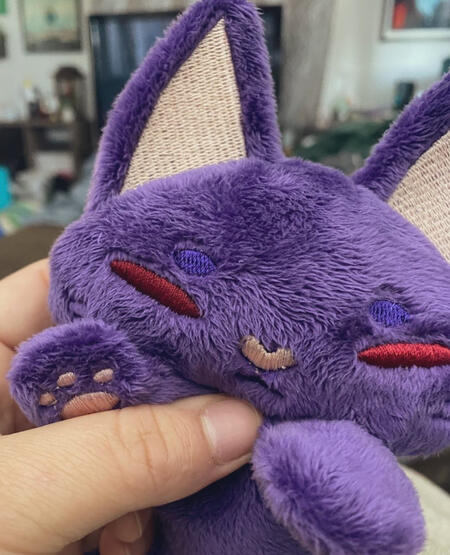 Medium Plush (~8-10") - $200 USD and up (examples below)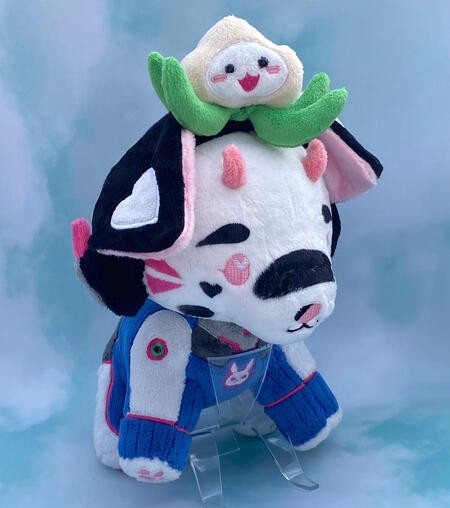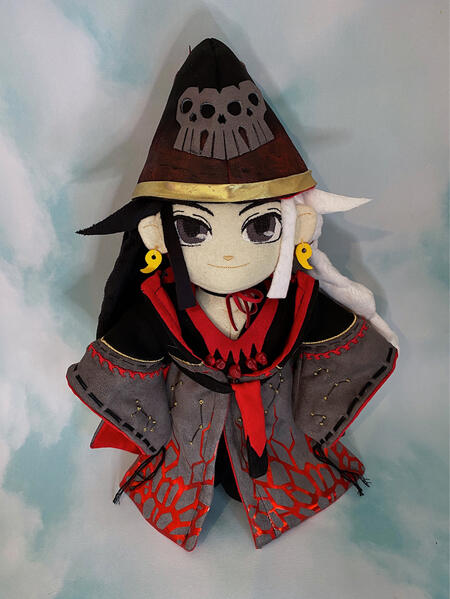 Large Plush (over 10") - $300 USD and up. Must be discussed further in order to give appropriate quote. (Example below, plush is 12")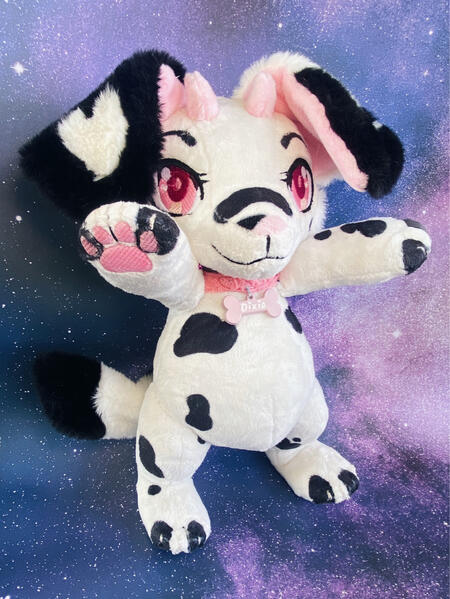 I reserve the right to deny any commission request based on timing, difficulty, etc, though I will do my best to work with you on these things (say, if you have an event within a reasonable timeframe or you are willing to agree to simplified or modified designs).
---
Payment
For fanart characters, I require 50% payment up front. For OCs, I require 75% up front. This is a deposit to cover costs for supplies as well as to guarantee I get paid in some capacity if a commissioner decides they cannot or will not pay.I accept Paypal, Venmo and CashApp at this time, bank transfer or Zelle, or money order via snail mail if you cannot pay with a card. I will not accept personal checks or cash.In the event I cannot complete your plush, I will issue a refund in full. Otherwise, I will not issue refunds to commissioners once I have started work.Filing a dishonest dispute on Paypal to obtain a refund after I have delivered your plush will result in blacklisting, and I will warn other plushmakers of this behavior.
☆☆☆ References ☆☆☆
This is VERY important! I will not consider your application unless you have references for your character. At minimum, I need a full front and full or mostly full back reference. Any important details must be clear or shown in greater detail. The more references you have, the better!Please link your reference images in an online album like a shared Google drive, imgur, flickr, etc. (Please remember to share permissions!)If you have a specific style of plush you would like, it would be helpful to me if you include those references.
Process
The process/timeline for commissions will be roughly as follows:
You send an application

I respond letting you know whether I will take your commission or not

If accepted, we discuss further details and a quote via email or discord

After partial payment, I will order any necessary supplies, begin work on your plush and send periodic updates (at least once per week, barring any extenuating circumstances). During this part of the process you will be able to provide feedback.

I finish your plush! (Commissions will ordinarily take 1 to 2 months to complete)

You pay the remaining cost as well as shipping

You get your plush! Hooray!
Application
Please follow the link below to fill out an application. Submission of an application does not guarantee a commission slot.[LINK CURRENTLY NOT AVAILABLE, applications are closed]
Please do not hesitate to contact me via email or DM with any questions.